Project Description
TECHNOLOGY DRIVEN SOLUTIONS FOR PUBLIC HEALTH
Project Details
The Ciheb international health, education, and research center resides in the Institute of Human Virology at the UMD SOM. The center's multi-disciplinary teams create health equity by supporting evidence-based, data-driven health care for communicable and non-communicable diseases. Their model promotes local, sustainable health care capacity and collaboration that encourages and advances science and health services.
The Center for International Health, Education, and Biosecurity (Ciheb) at the University of Maryland, Baltimore's School of Medicine (UMD SOM) needed to promote collaboration and enable real-time data capture for HIV epidemiological studies throughout Africa. Softek created a solution that collates and visualizes data on a multi-user platform, ensures unparalleled security for sensitive patient data, and saves vital funds.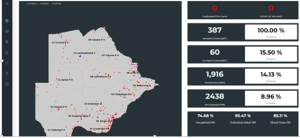 The Challenge: A Legacy System with Limited Accessibility and Security in a Technology-Constrained Environment
Ciheb delivers HIV care and treatment to more than one million patients throughout nine resource-limited African countries. Central to Ciheb's program is their Activity Information Management System (AIMS), an electronic case management information system that stores volumes of mission-critical patient health data used for tracking and managing individual and population health.
Ciheb's legacy system was not meeting the needs of their researchers and care providers, who needed a complete, cost-effective rehaul that protected patient data, and provided real-time visualization. They required a system that stored massive amounts of data without loss or latency, while overcoming the limited technology infrastructure within the regions they served.
Softek's Solution
Softek leveraged our Agile development and DevSecOps to accelerate and maximize iterative return on investment (ROI) across an aggressive 10-month lifecycle, including 45 days of operations and maintenance (O&M) and transition. We first assessed AIMS limited proof of concept on the Azure Infrastructure as a Service (IaaS) and determined a redesigned architecture using Azure Platform as a Service (PaaS) would provide cost-effective development and significant reduction in the need for custom coding.
Softek's Redesigned AIMS:
Eased data exchange with other systems by incorporating the widely used Consolidated Clinical Document Architecture (C-CDA) to
Made resources easily scalable and available, and reduced long-term operational costs by enabling automated provisioning.
Fully secured the privacy of patient data by providing encryption for sensitive and personally identifiable information (PII) both in transit and at rest.
Streamlined AIMS' access control by completely redesigning and implementing the migration of users from the legacy system, and incorporating their user roles and profiles, accounts, and access groups in the transfer.
Helped health care providers and researchers visualize data in real time across the continent. They can now plan, do, and act in response to trends using a Softek- developed web-based, front-end reporting system of dashboards and wallboards.
Optimized Information with Significant Cost Savings
Softek engineered a fast, cost-effective solution that provided storage and security, and empowered the health care providers and researchers who needed to share critical data in real time.
Softek 's AIMS modernization effort resulted in:
Cost savings created through reallocation and streamlining of resources, allowing Ciheb to only be charged for the capacity they require,
Collaborative dashboards provided enhancements for collaboration and real-time visualization of data,
Integration of information platforms in five countries across Africa